Shelving System – Planification of the storage place
The optimization of warehouse space is still – even in consideration of the significant increase in storage space – a subject. This is why we have opted again for a moveable shelving system. Moveable shelving systems are systems in which static shelving systems are installed on automated moveable carts.
We are already familiar with said system from Dexion with regard to our warehouse in Königsbenden 28. This type of shelving system makes it possible to close those aisles that are momentarily not in use, thereby optimizing the use of storage area and storage space respectively. You win a lot of space for the storage, thus avoiding significantly so-called "empty" passages.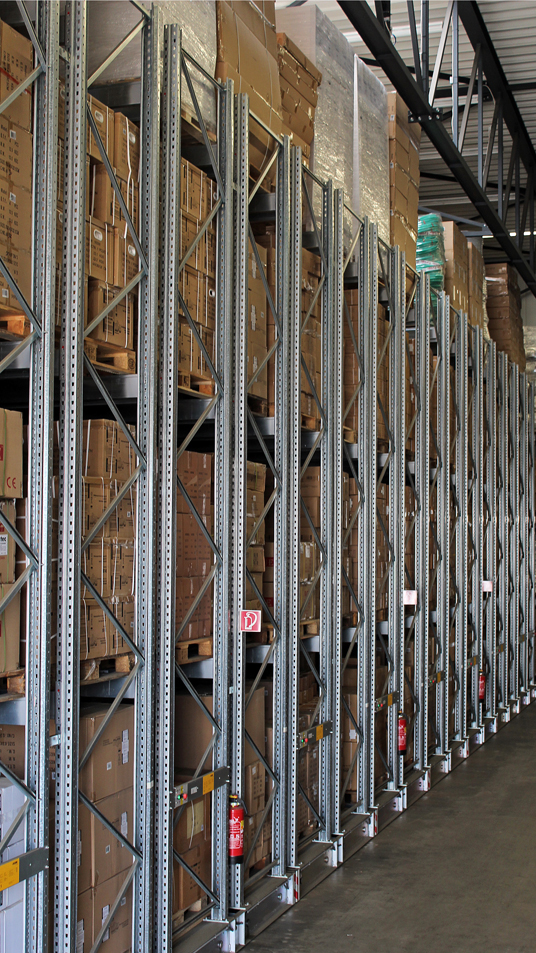 The advantage resulting from the lack of these aisles makes a benefit in storage space of approximately 50% or, in other words – 100 % more capacity. Because of this fact the extra costs of this system are compensated within a short time.
The big disadvantage is the access to only one aisle while all other passages are closed up so that there is only one picker who has access to the storage area. However, this can be compensated by deviding the shelving system into several blocks thus creating more moveable aisles. In our plan, we have envisaged 4 aisles which makes us work with 4-8 pickers per shift at the same time..
If you furthermore take into consideration an optimization regarding the commissioning as integrated in the Warehouse Management software LAGOS W&E, we can "collect" any and all orders by only one "flow". This intelligent control system compensates at the same time the lack of access to all pallet storages.
This is what 6.692 pallet storages look like in the new warehouse as designed below: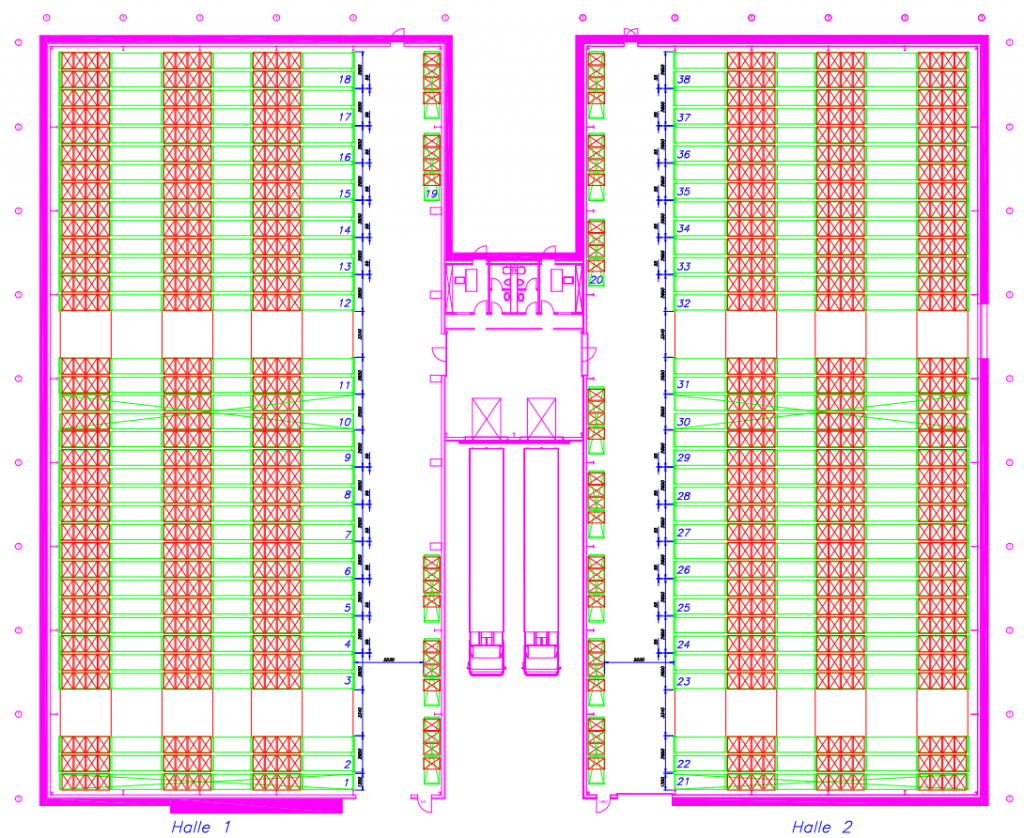 So today, we have placed the order for the moveable shelving system with the company Stow Deutschland GmbH. The manufacturer must have reacted in a very early planning stage because the static as well as the size of the hall are decisive for the machine. The hall floors of these shelves are subjected to loads different to other conventional static shelves. When a cart is moved there are about 100 tons in motion. These dynamic loads have to be taken into consideration. This step of placing the order is also done now.
The structural engineer may calculate. We hear again from Stow Mobile upon delivery of the rails.