Our Airbrush Spray Booth device was tested and approved by the magazine Airbrush Step by Step. Of course, we do not withhold from you neither the report nor the successful video of the product.
Clean indoor air thanks to the suction device of WilTec Airbrush
Paint mist is even more persistent than dust. Especially at home it is not unusual to find a thin layer of paint on the furniture after brushing. However, with the help of a suction device this can be prevented, depending on the size and quantity of paint.
As for this report, we have focused on the suction system of WilTec´s HS-E420DCLK. Thanks to the detailed and illustrated manual, the assembly can be done within a short time. As for the colour gradient in illustrations, the suction system is well-suited up to a width of approximately 36 cm to the effect that there is even room for favoured formats such as for example 50 x 36 cm. Models up to a size of 30 x 38 x 30 cm will fit as well. It might be a bit too tight for a motorcycle helmet, but the cover flap can be folded away. As for wider objects, two suction devices are simply mounted together.
A further characteristic is the integrated LED-lighting. Especially with regard to the painting of models and pieces this has proved to be practical and saves the artist to adjust other lighting situations, especially in rooms that are poorly lit. The LED strip sets light to the suction device from the left, right and above to the effect that there is a balanced lighting. The LED-strip is simply plugged into the power adapter and may be removed by merely one grip at any time.
There is also a turntable enclosed which has a diameter of about 19.5 cm. According to the manufacturer, nearly all paint and liquid particles can be removed without affecting the environment thanks to a very fine-meshed filter.
The filter can be easily replaced and is available as a spare part filter from the manufacturer. There is also enclosed an air-evacuation hose as an accessory that may be additionally connected directly to the device and thereafter tapped into the window gap. Having a decibel of 45, the suction device has a normal volume.
The suction device can be simply built back. It is easily transported and stored thanks to an integrated handle. Those who intend to keep their workplace in a clean and proper condition will find a favourable first opportunity providing many practical functions.
The version with LED strip and an air flow rate of 4m³/min can be purchased at WilTec for 125,56 Euro. Alternatively, there are two versions without LED, with 3m³/min for 92,39 Euro or with 4m³/min for 116,57 Euro.
Video (Quelle: https://www.youtube.com/watch?v=aY2c42IBYWk):
Magazin Airbrush Step by Step (06-2015):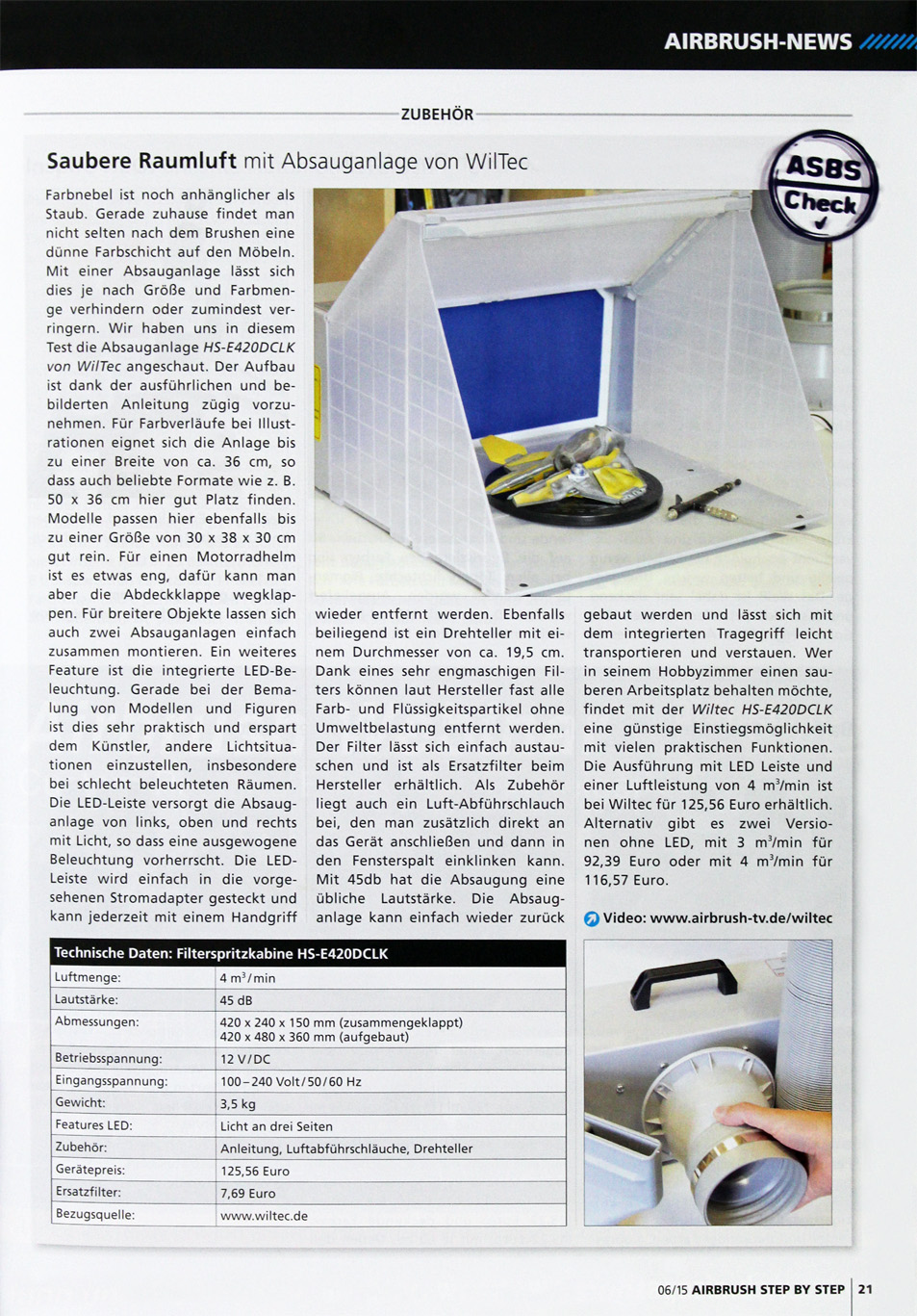 Summary of the various models in WilTec´s shop:
• Airbrush Suction unit HS-E420DC
• fast assembling and disassembling
• combinable
• 4m³/min / 45 dB / 12 Volt/DC
• Airbrush Spray Booth with Illumination HS-E420DCLK
• quick to assemble and disassemble
• 4m³/min / 45 dB / 12 Volt/DC
• Extension hose
• for the Suction Unit Wiltec 420