WilTec: 3,5 million Euro Investment
3,5 million Euro Investment: Family company WilTec prepares for international trade on internet in industrial park area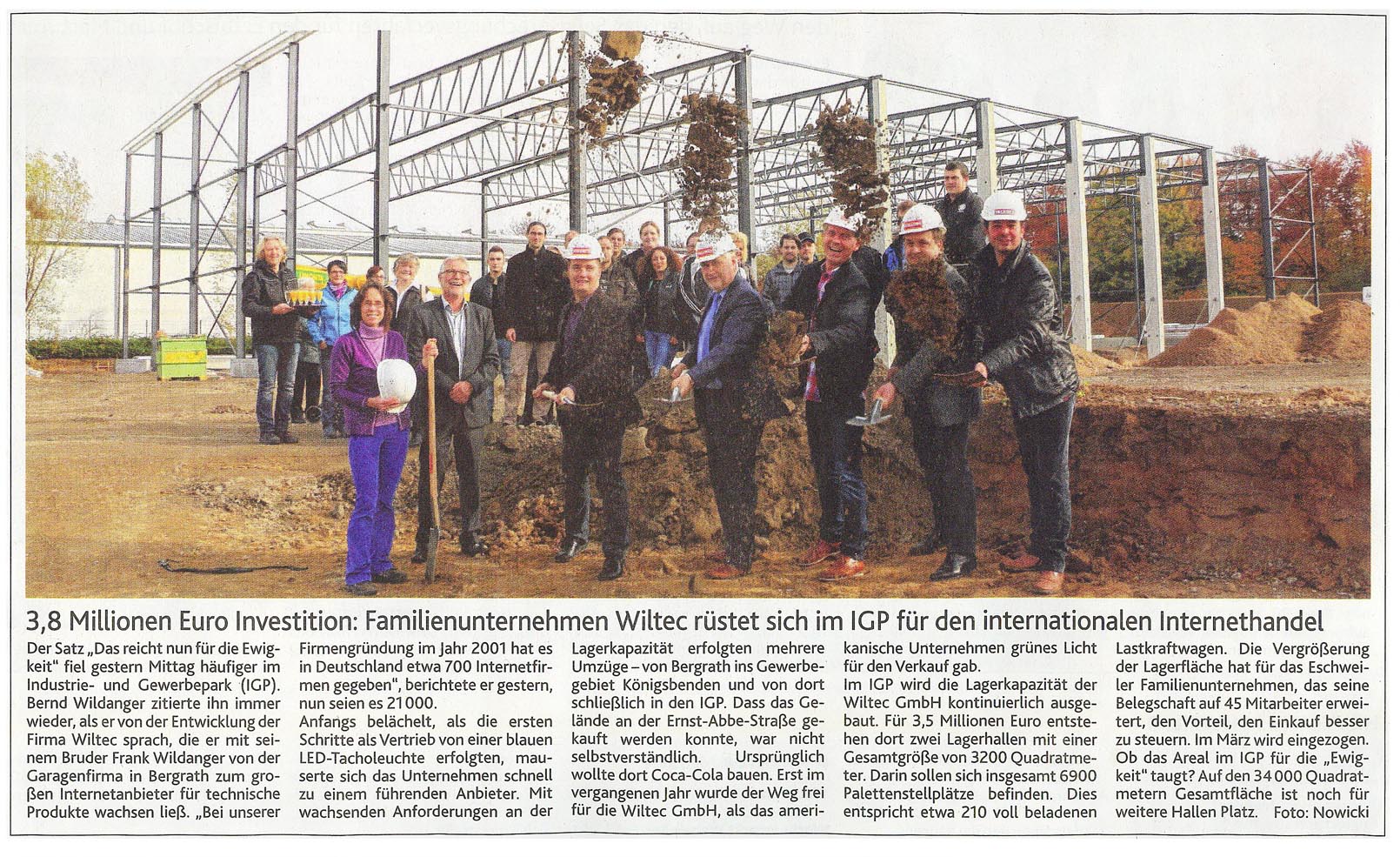 It was the phrase "That´ll be for the eternity now" that could be heard for various times in the industrial park area yesterday afternoon. It was Bernd Wildanger who quoted said phrase repeatedly when speaking about the company´s development that he and his brother Frank Wildanger made grow from its beginnings as a "garage business" located in Bergrath to a large internet provider of technical products. "In those days, there have been about 700 internet companies in Germany when we started the foundation of our company in 2001", he stated yesterday, now it is supposed to be 21.000 ones.
Initially being laughed at when they had taken the initial steps for the distribution of blue LED speedo lights, the company was quickly to transform and develop into one of the leading supplier. Due to the growing demands on the storage capacities there had to be done several relocations – such as from Bergrath to the industrial park area Königsbenden and then finally to IGP, the industrial business park. However, the acquisition of the area located on the road Ernst-Abbe could not be taken for granted. It was Coca-Cola who intended to construct in said place. It wasn´t until last year that the opportunity for WilTec GmbH finally opened up when the American company signalled the sale.
In the industrial business park, the storage capacity of WilTec GmbH keeps being expanded. There are two warehouses with a total area of 3.200 square metres that are being constructed for 3.5 million euros. They are supposed to comprise a total of 6.900 pallet storage places which correspond to approximately 210 completely loaded trucks. For the family company that is about to expand its staff to 45 employees, the inlargement of the storage area means a better control of its purchases. The removal is supposed to take place in March. But is the area in the industrial business park going to prove "for the eternity"? There is still enough space for more warehouses.